Solar oven
Solar oven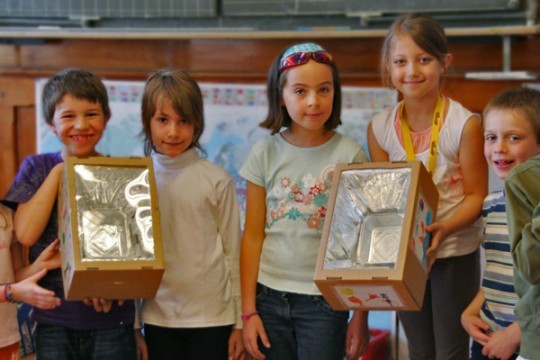 This project helps to understand how the greenhouse effect can be used to 'trap' the heat of the sun.
The sun's rays (short wavelengths of visible light) penetrate through the glass of the oven and heat the elements inside. When this heat is reissued as infra-red radiations (longer wavelengths) it can't pass through the glass again. This phenomenon called greenhouse effect increases the temperature inside the oven. The same principle is applied in solar thermal collectors to produce hot water.
The solar oven doesn't grill food but allows you to cook eggs, tomatoes and other vegetables.
On a sunny Summer day, the oven temperature reaches over 80°C degrees and an egg can be hard boiled in about an hour and a half.
The use of solar cookers could avoid deforestation in some third world countries.

26.11.2019 : Martin


Des élèves du CO de Sarine-Ouest ont réalisé le bricolage de four solaire. Voici leurs commentaires : Le four solaire était un bricolage plutôt sympa à réaliser. Par contre, nous n'avons pas vérifier s'il fonctionnait bien, car il n'y avait pas assez de soleil et nous n'avons pas pu le laisser asse...

View more

30.08.2013 : Pascal Edelmann


Nous avons proposé le bricolage du four solaire durant le Passeport vacances 2013 à Fribourg. 37 enfants de 7 à 13 ans ont participé à cet atelier organisé sur 3 matinées... et ce fut un succès! Le bricolage n'est pas trop difficile à réaliser et ne nécessite pas de matériel difficile à trouver. I...

View more

21.10.2009 : Buttet Jean


Les fours solaires, ça fonctionne !   A la suggestion de Marie-Anne Lüthi, enseignante au collège du Chauchy à St-Prex, nous avons consacré quelques heures à faire découvrir aux enfants la différence entre énergies fossiles et énergies renouvelables, en particulier l'énergie solaire. ...

View more