La plate-forme collaborative de bricolages scientifiques et pédagogiques

Water rocket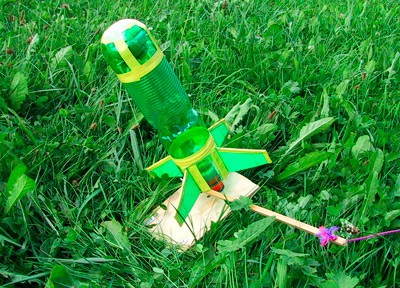 This water rocket project shows how you can stock energy and illustrates the action-reaction principle.
With the help of a bicycle pump, air is compressed in a tank (bottle) containing some water. By releasing the air, the water is expelled and the rocket is launched high in the air.

To optimize the performance of the rocket, it is important that its structure is balanced and that leaks are reduced to a minimum. The amount of water and air in the bottle is also important. Optimizing the rocket shows that with the same amount of energy it is possible to improve the performance of the rocket.
Difficulté
Très difficile
Durée
3h
Note
Prix
~ 20 CHF
Témoignages
0