La plate-forme collaborative de bricolages scientifiques et pédagogiques
Parabolic solar Grill
Parabolic solar Grill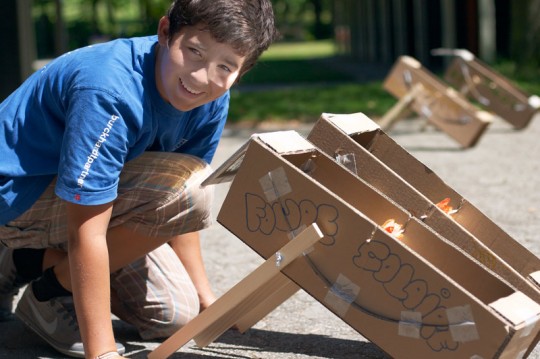 Building a parabolic solar grill helps to understand the principle of sunlight concentration.

This technique is already used in experimental solar power plants. Parabolic mirrors focus the Sun's rays on black pipes in which water circulates. The heated water expands and turns into steam creating a pressure that can be used to power turbines and, with the help of generators, produce electricity.
A gigantic project called Desertec plans to build solar power plants of this kind in North Africa to supply Europe with electricity.

06.07.2012 : gdelac


En 2012 à Lutry, des élèves de 8e année ont réalisé le grill solaire avec le soutien d'Info-Energie (Service de l'énergie du canton de Vaud).   Ils ont créé un panneau d'information pour illustrer leur bricolage lors d'une exposition organisée à l'attention des autres élèves du collège a...

Lire la suite