La plate-forme collaborative de bricolages scientifiques et pédagogiques

Solar oven in a jar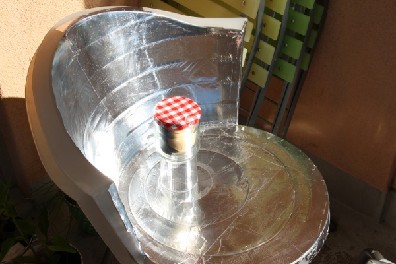 This project of a solar oven was part of a contest organised by the Juvene Foundation and the Swiss television (RTS-découvertes) during Summer 2011.

The idea was to propose an easy experiment which needed only extremely cheap and easy to find materials and which would encourage children to express their creativity. The submitted projects turned out to be very diverse and quite remarkable.

The basic model can be improved in order to increase its efficiency, for instance by painting some parts in black, insulating certain areas or by focusing the Sun's rays on the oven. With the use of two glass jars, the greenhouse effect is increased.

Solar thermal panels work the same way as they also use the greenhouse effect, black tubes and are insulated. With them it is possible to produce most of our domestic hot water without any pollution.
Difficulté
Très facile
Durée
2h
Note
Prix
~ 5 CHF
Témoignages
1